This
post
was originally published on
this site
The U.S. Social Security Administration says it is reversing a newly enacted policy that required a cell phone number from all Americans who wished to manage their retirement benefits at ssa.gov. The move comes after a policy rollout marred by technical difficulties and criticism that the new requirement did little to prevent identity thieves from siphoning benefits from Americans who hadn't yet created accounts at ssa.gov for themselves.
In an announcement last month, the SSA said all new and existing 'my Social Security' account holders would need to provide a cell phone number. The SSA said the numbers would be used to send recipients an 8-digit code via text message that needs to be entered along with a username and password to log in to the site.
But sometime in the past few days, apparently, the SSA decided to rescind the cell phone rule.
"We removed the requirement to use a cell phone to access your account," the agency noted in a message posted to its mySocial Security portal. "While it's not mandatory, we encourage those of you who have a text capable cell phone to take advantage of this optional extra security. We continue to pursue more options beyond cell phone texting."
Hopefully, those options will include using the U.S. Mail to send Americans a one-time code that needs to be entered at the SSA's Web site to complete the sign-up process. I should note that the SSA is already mailing out paper letters via snail mail to Americans who've signed up for an SSA account online; they're just not using that mailing to securely complete the signup and authentication process.
Here's a redacted letter that a friend of mine received and shared the other day after signing up for an account online. It merely explains what the agency already explained about the texting policy via its Web site.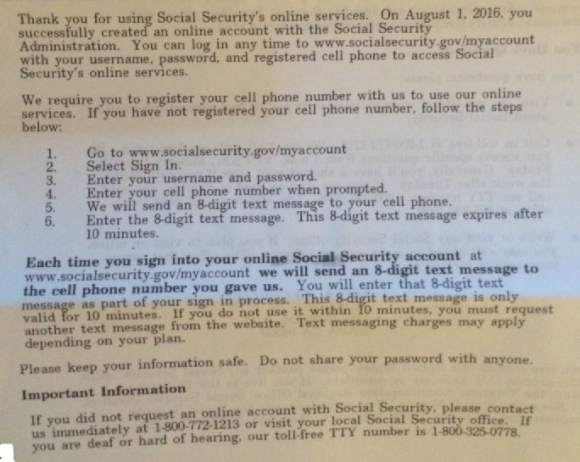 A letter that the Social Security Administration sends out via the U.S. Mail for every American who signs up to manage their benefits at ssa.gov.
The SSA does still offer the text message feature as part of what it calls "extra security" options. These extra options by the way do include the sending users a special code via the U.S. Mail that has to be entered on the agency's site to complete the signup process. If you choose to enable extra security, the SSA will then ask you for:
The last eight digits of your Visa, MasterCard, or Discover credit card;
Information from your W2 tax form;
Information from a 1040 Schedule SE (self-employment) tax form; or
Your direct deposit amount, if you receive Social Security benefits.
Sadly, crooks won't go through the more rigorous signup process — they'll choose the option that requires less information. That means it is still relatively easy for thieves to create an account in the name of Americans who have not already created one for themselves. All one would need is the target's name, date of birth, Social Security number, residential address, and phone number. This personal data can be bought for roughly $3-$4 from a variety of cybercrime shops online.
What else does the SSA require to prove you're you? Assuming you can buy or supply the above personal data, the agency relays four multiple-guess, so-called "knowledge-based authentication" or KBA questions from credit bureau Equifax. In practice, many of these KBA questions — such as previous address, loan amounts and dates — can be successfully enumerated with random guessing. What's more, very often the answers to these questions can be found by consulting free online services, such as Zillow and Facebook.
In September 2013, I warned that SSA and financial institutions were tracking a rise in cases wherein identity thieves register an account at the SSA's portal using a retiree's personal information and have the victim's benefits diverted to prepaid debit cards that the crooks control. Unfortunately, because the SSA's new security features are optional, they do little to block crooks from hijacking SSA benefit payments from retirees.
Because it's possible to create just one my Social Security account per Social Security number, registering an account on the portal is one basic way that Americans can avoid becoming victims of this scam.
In addition to the SSA's optional security measures, Americans can further block ID thieves by placing a security freeze on their credit files with the major credit bureaus. Readers who have taken my ceaseless advice to freeze their credit will need to temporarily thaw the freeze in order to complete the process of creating an account at ssa.gov. Looked at another way, having a freeze in place blocks ID thieves from fraudulently creating an account in your name and potentially diverting your government benefits.
Alternatively, citizens can block online access to their Social Security account. Instructions for doing that are here.
Tags: credit freeze, Equifax, Facebook, security freeze, ssa.gov, U.S. Social Security Administration, Zillow
This entry was posted on Tuesday, August 16th, 2016 at 11:58 am and is filed under Other. You can follow any comments to this entry through the RSS 2.0 feed. You can skip to the end and leave a comment. Pinging is currently not allowed.